Etude house sweet recipe ice cream nails
NOTD: Etude House Sweet Recipe Icecream Nails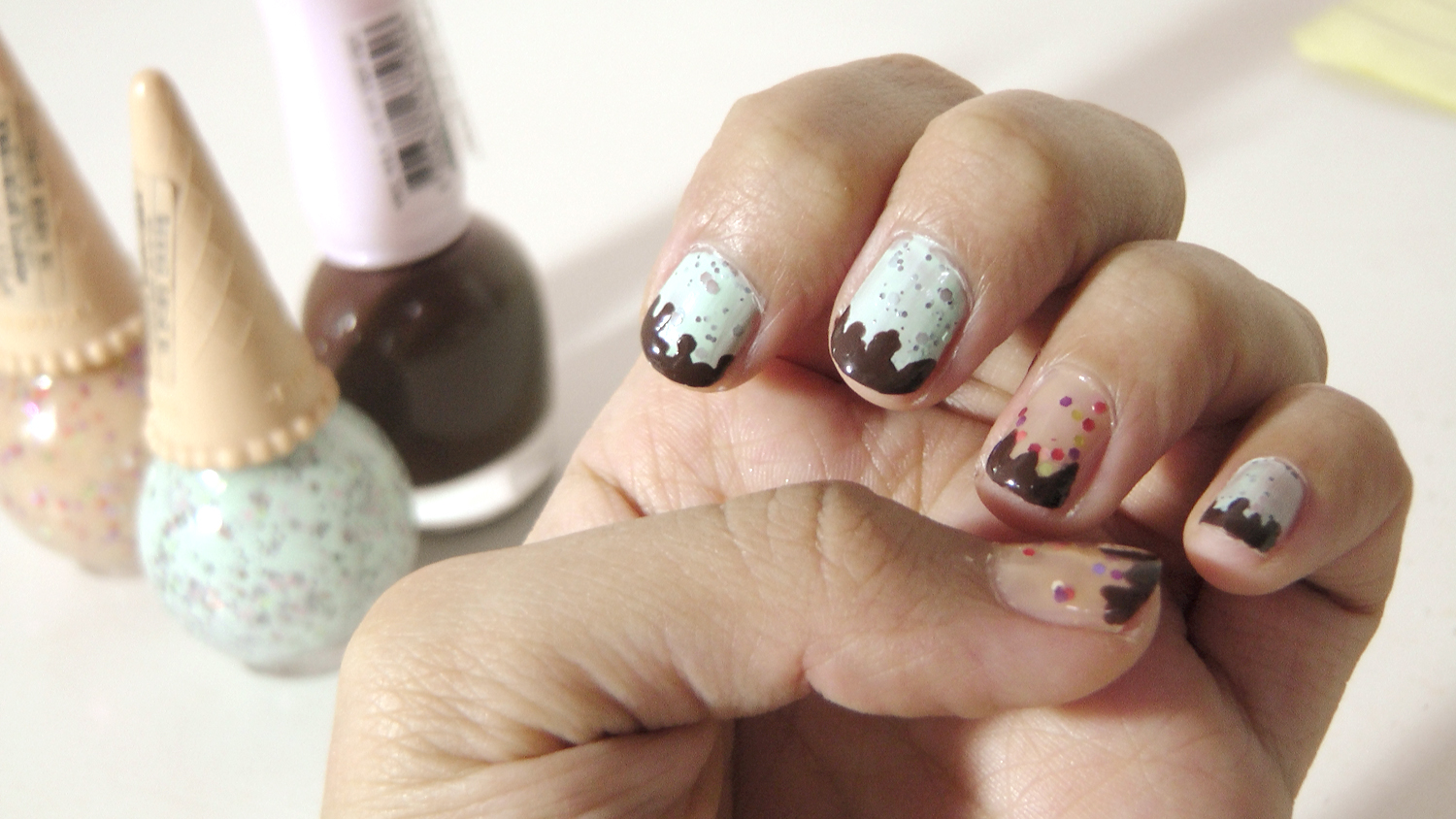 Hey guys! I'm back with another much anticipated post care of
Etude House's new Sweet Recipe Collection
. I did an
earlier haul
on this + other things from the Sweet Recipe line and was super duper excited to try this NOTD out. This will be just the first post on an entire installment of posts featuring Etude's new Sweet Recipe Line.
The Ice Cream Nails line has been much raved about for its cute and innovative packaging. I never would have thought to make a polish line shapped like icecream cones! The colors are so cute and pastel-y. The two polishes from the line that I'll be using today are the Sweet Recipe Ice Cream Nails #1 MintChoco Chip and #3 Apricot Candy.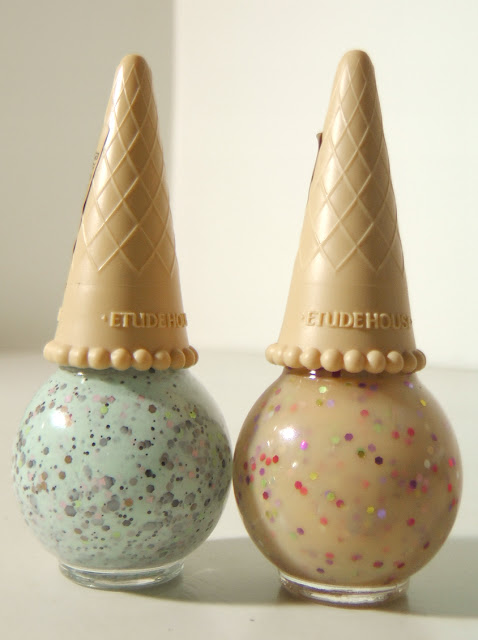 Aren't they just lovely? Their consistency is a sheer milky polish that is thin enough to let the chunky glitter shine through sparsely, giving the illusion of sprinkles on ice cream. They dry pretty quickly too and are really easy to apply!
 They look quite nice on their own, but as I do in real life, I thought they'd look a lot better with a little extra something added to them. And what goes better with ice cream than chocolate fudge? I used one of the polishes from Etude House's regular line, DBR401 Bravo Brown, a nice thick chocolate brown color.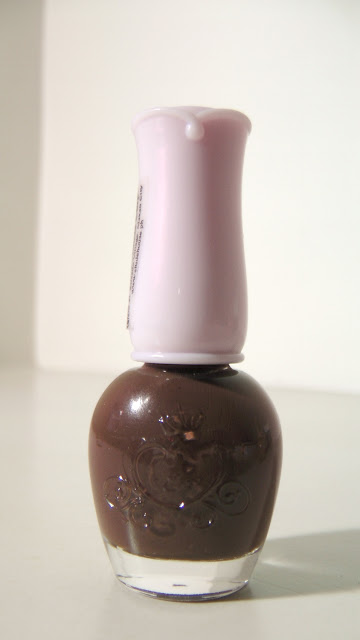 The result were the cutest nails I've done on my hand in a very long time~ I'm totally in love with my nails right now and I almost feel like I could eat them!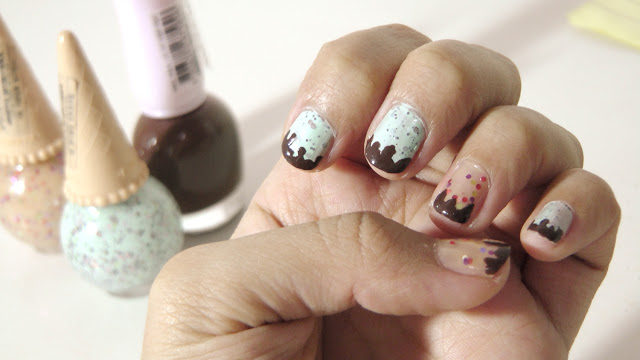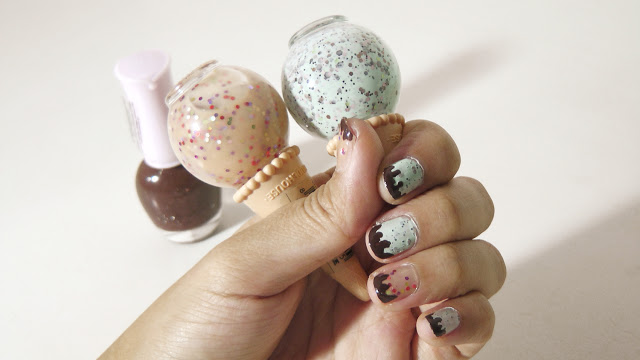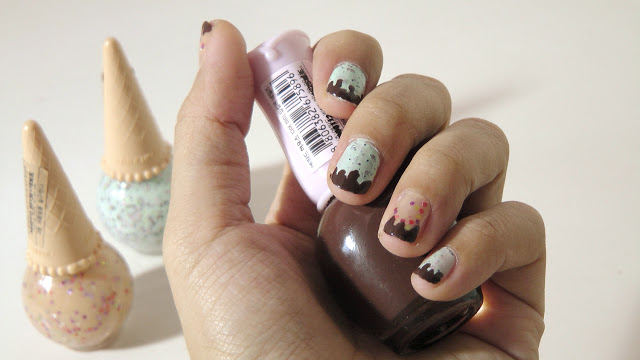 The chocolate fudge gives a new unique twist on the everyday french tip and is really easy to do with a thin brush, dotter or a toothpick! I found that the consistency of the Bravo Brown polish was thick enough and had the perfect texture to act as a chocolate polish.
I used to be a nail biter and have since quit the habit, but dang, these nails make me want to bite them all over again haha.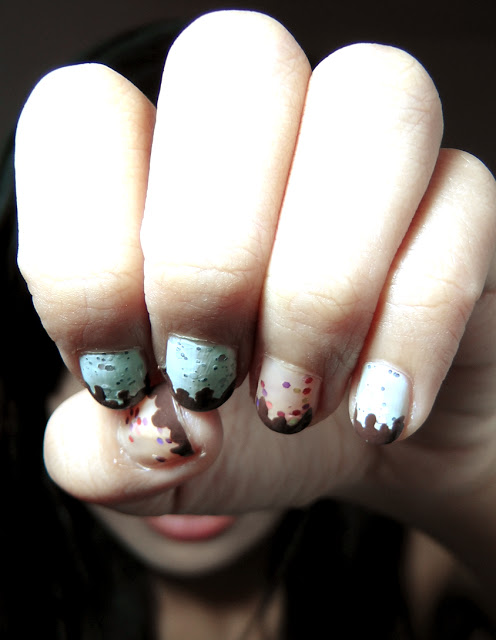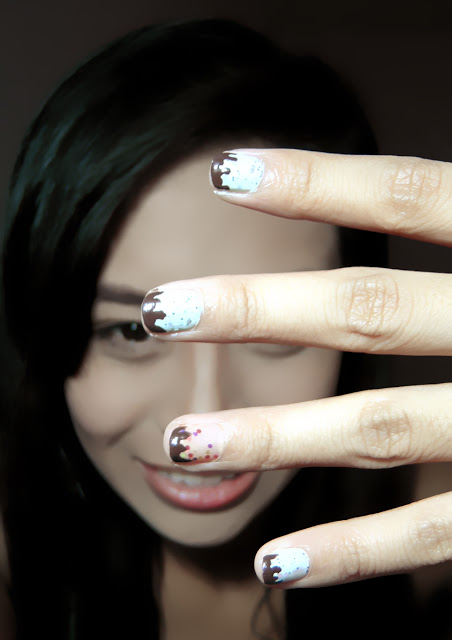 MintChoco Chip is a pastel blue with sea green undertones and perfectly mimics the ice cream flavor with its chunky glitter. I find that when I apply it on, the glitter is applied just sparse enough to give the right effect. It's mixed in with some iridescent pink, periwinkle, green and blue glitter. Apricot Candy on the other hand is a very flesh-toned pastel with red, orange, green, yellow and red-violet glitter chunks. If you're not one for really loud statement colors, this is a nice neutral polish with a little splash of color :)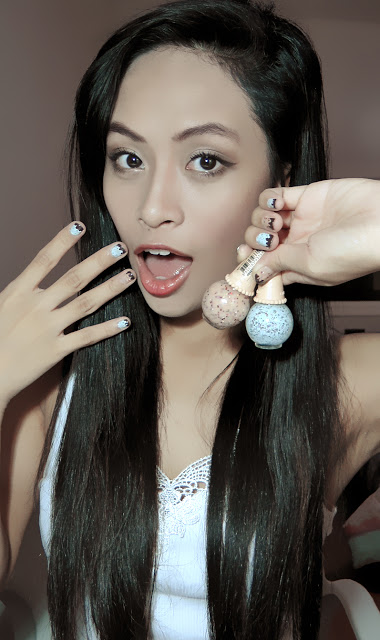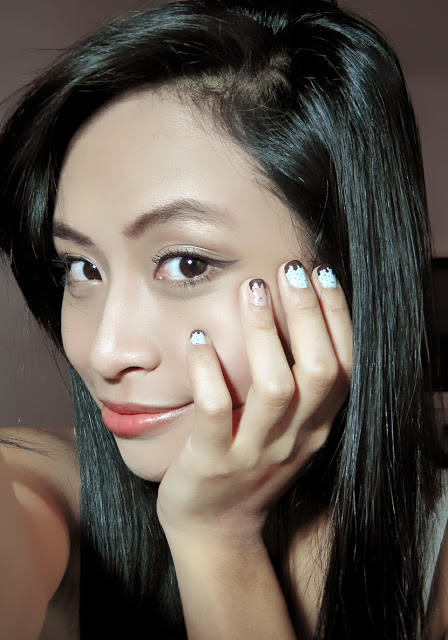 What do you guys think? Have I sold you on the polish yet? And that's not even making a dent on the amount of products I have to share with you.
Coming up is a review on the most popular item on the line so far, the Baby Choux Base endorsed by Sulli of f(x). You can catch a preview of the post below ;)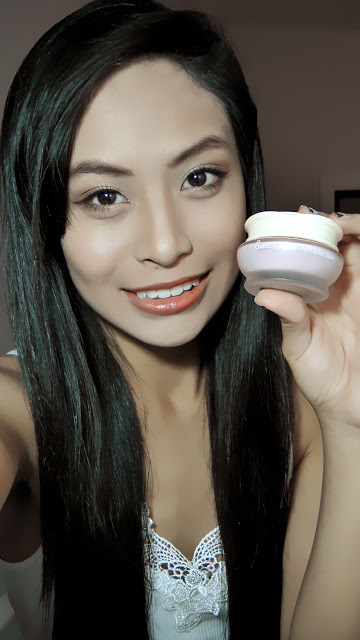 Ada, signing out!
Join my Thank You Giveaway!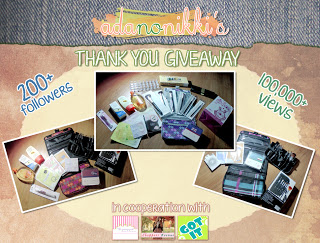 etude house sweet recipe ice cream nails
etude house sweet recipe ice cream nails
Etude House Sweet recipe Ice-cream nails all 4~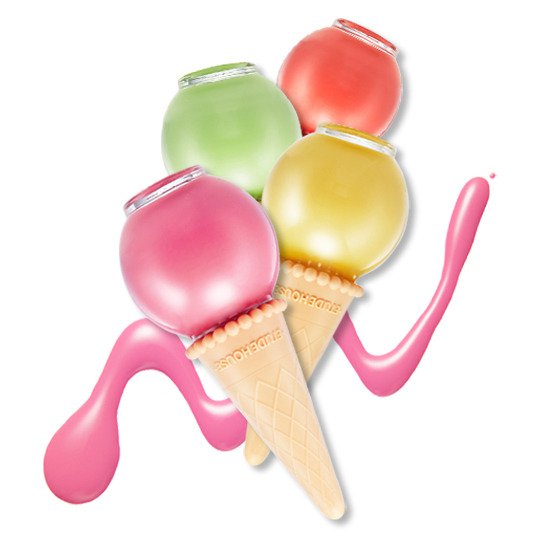 5 available
Details
Shipping: US-Mainland: free (more destinations)
Condition: Brand new
*The store has not been updated recently. You may want to contact the merchant to confirm the availability of the product.
meylisa agustina: Etude House Sweet Recipe Ice Cream Nail Polish Review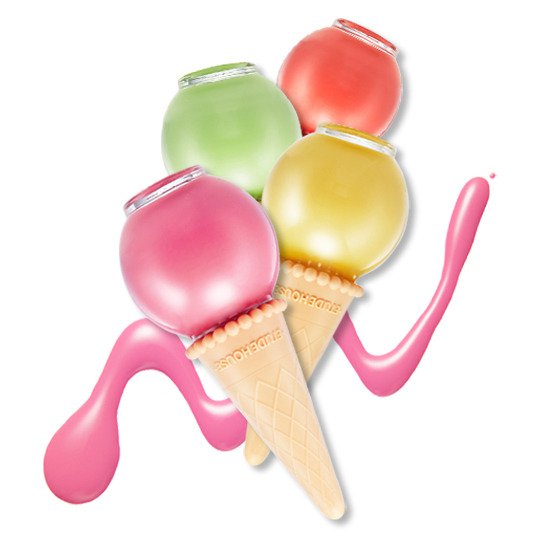 heyhooo fellas~
masih inget kan, Etude House ngeluarin make up line terbaru mereka yakni Sweet Recipe Ice Cream??
Nah, Sekitar dua minggu lalu, temenku ada yang berbaik hati untuk dititipkan produk-produk Korea. Tanpa ragu, aku langsung nitip produk-produk Etude House. Apa yang aku titip??
Yea~ It's Etude House Sweet Recipe Ice Cream Nail Polish!!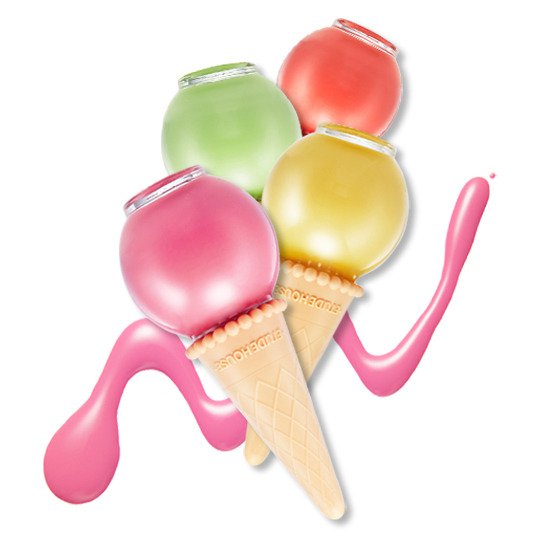 cr: etude.co.kr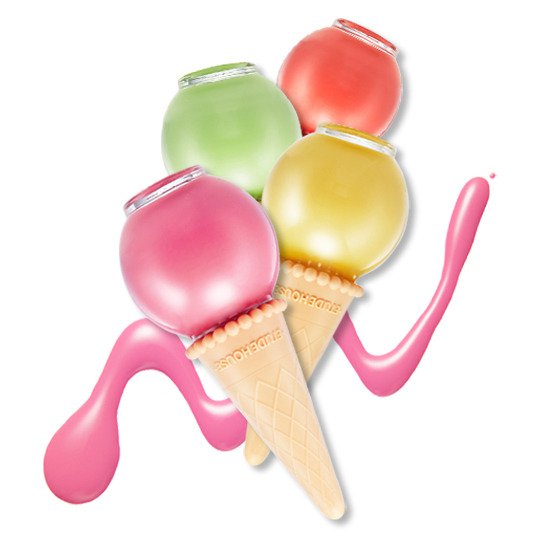 cr: etude.co.kr
Untuk Sweet Recipe Ice Cream ini, Etude release empat pilihan warna. Yakni:
Mint Chocolate Chip
Lemon Sorbet
Apricot Candy
Strawberry Stars Candy
Pilihanku jatuh pada warna Mint Chocolate Chip. Sementara temenku De Tia pilih Apricot Candy, dan Strawberry Stars Candy. Oiya, di review ini aku dibantu sama De Tia juga. Hehehehe thankiiess yah De udah mau bantu review~
Lah, kenapa ga beli semua Mels? 

Hem.. aku ga terlalu suka warna kuningnya. Warna pink dan apricot-nya juga kupikir biasa aja. Aku emang lagi pengen warna-warna biru yang cool kayak varian mint choco-chip.
Here mine and De Tia's!!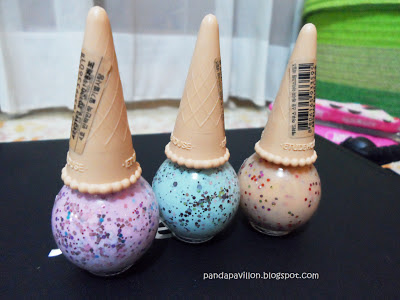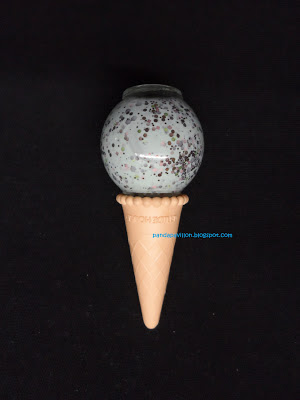 Kalo packaging.. as we know Etude always has supa-cute packaging!! Bentuknya yang mirip es krim bikin aku pengen ke minimarket terus jajan es tong-tong #eh
Bagian penutup-nya dibentuk kayak cone ice cream. Supa-cute, right??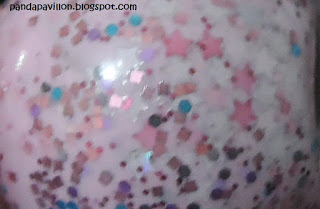 Untuk varian Strawberry Stars Candy,  warna-nya sheer pink lembut. Kalau di foto iklan-nya sih warnanya rada-rada ungu gitu. Tapi di barang aslinya lebih pinky. Glitternya beragam. Dari yang bintik-bintik kecil, bentuk hexagonal, dan bentuk bintang. Aku suka sama bintang-bintangnya!!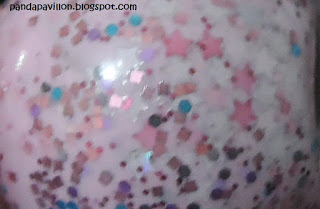 Untuk varian Mint Chocolate Chip, warnanya sheer juga. Mungkin bisa dibilang warnanya mirip sama warna kulit telur asin ya.. Glitternya banyak, dengan bentuk beragam ukuran. Glitter bintik kecil, glitter kotak-kotak, dan glitter bentuk hexagonal.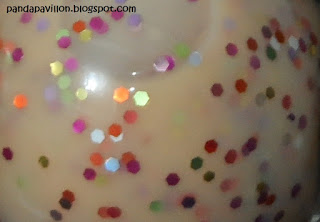 Kalau varian Apricot Candy, warnanya sheer juga. Glitternya lebih sedikit dibandingkan Mint Choco dan Strawberry Stars. Glitter ukurannya tidak beragam, tapi beda-beda warnanya. Colorfull glitter, eh?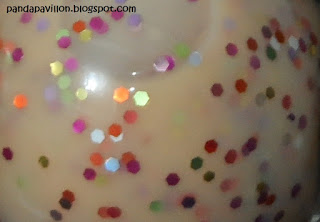 swatch on "Hai Miiko" comic!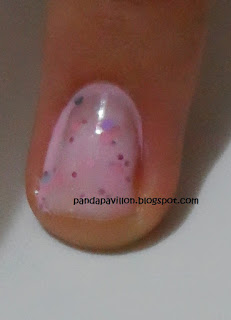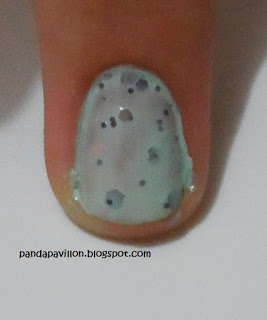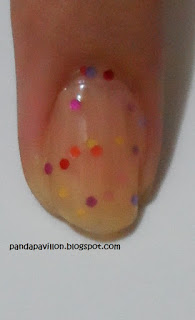 Swatch diatas semuanya hasil beberapa kali oles yah temans~
Final Opinion:

+ cute packaging
+ affordable price. 3000won for one piece
+ pretty colors!
- warnanya terlalu sheer, jadi mesti poles berkali-kali baru keliatan warnanya
Purchase again? Nope. Bukan karena ga suka tapi mau koleksi yang lain.
Overall : 4 out of 5 Pandas like it!

Well, aku agak nyesel sih ga beli Strawbeery Stars dan Apricot Candy, padahal warnanya cantik huhuhu 
Adakah teman-teman yang tertarik dengan Etude House Sweet Recipe Ice Cream Nail Polish ini? Let's shopping~~~
Sekian dulu yah review ku! Aku lagi autis sama drama korea judulnya 49days nih. Ceritanya bagus, pemainnya ganteng dan cantik-cantik. Fashion dan make up-nya bisa ditiru. Tapi jalan ceritanya lumayan serius. Heheheh jadi OOT >.

See ya!!
Bonus pic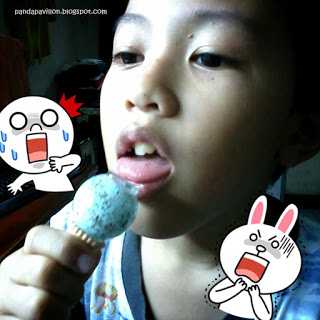 TIDAAAAK!!

Disclaimer: I buy this stuff by my own money. I'm not getting money for this post. Also this review based on my opinion.
Did you like the video? Like or tell your friends!