Oakley nails
oakley nails
oakley nails
Oakley Nails - CLOSED - Oakley - Cincinnati, OH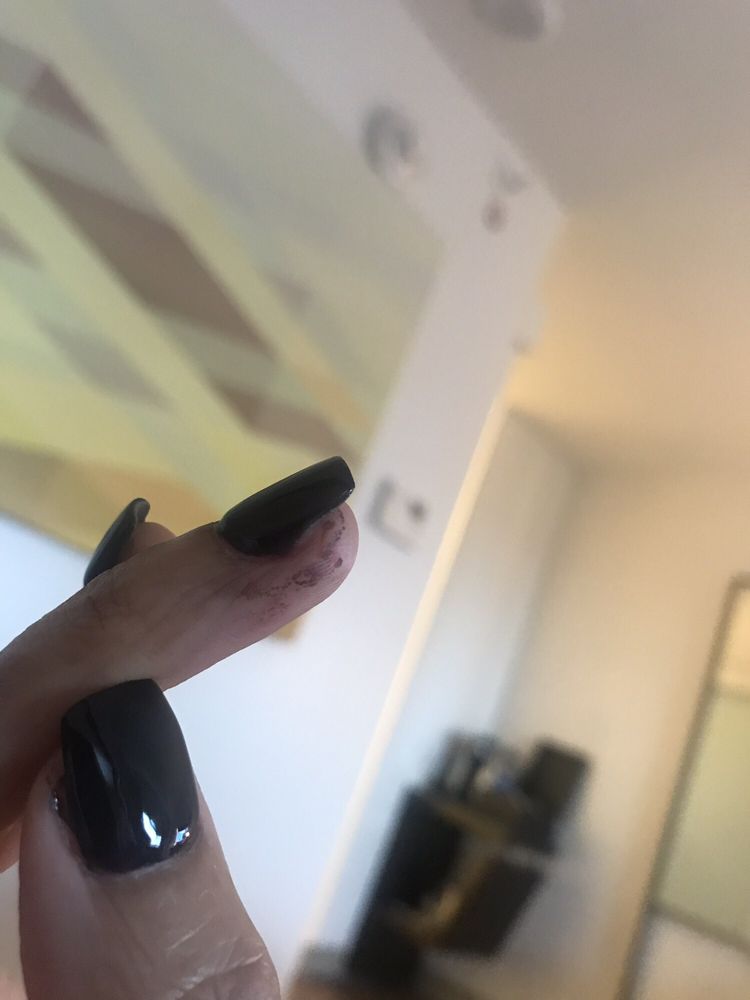 40
3359 Madison Rd
Cincinnati, OH 45209
(513) 871-2808
My toes looked terrible and right before Christmas when I was going home to see my family I came in 5 min before close. (my bad I just moved to town and didn't know). Amy one of the ladies stayed open to do my toes. Shes does an amazing job and I wont go anywhere else. It's very clean and they do a great job. I was so impressed they stayed open for me that never happens. Amy is very skilled, I always request her. She also helps me pick out my colors which I like! This is one of my fav's in the nation now. Great job!!
The manager is rude and hires unlicensed techs. I experienced him cursing at his new teach calling her stupid!!! I had a conversation with his sister who informed me that she received her training from her brother only. I had a terrible experience from the rude Manger that talks about his staff in a negative manner. I will never return. SR
The owner said it would be a 5 minute wait for a manicure and 40 minutes later I was still waiting while I sat there with my nails soaking. When I nicely told him I was out of time and had to pick up my children or they would be home alone, he insulted me by saying that "Hyde park women, its all about me, me, me." He was so rude and then he wanted to charge me $10 for the soak. I have no idea how someone so rude could stay in business.
Staff was friendly but my nail tech whom I believe was the manager/owner and the nail tech next to me did a lot of gossiping about the other employees which was a huge turn off for me and bad for business also he did a horrible job with my shellac mani the polish peeled the very next day I didn't even bother to go back had to go to a totally different nail salon. I will never go back to Oakley nails nor would I recommend it. Update: This nail salon is permanently closed
I love Oakley Nails. They are always so friendly when I come in. The service is prompt and high quality. They are fast and efficient. I drive past Ambiance to go to Oakley Nails b/c the service is great and all of the technicians are courteous. No random upcharges or rude technicians.
Speaking of experience this week, my experience at Oakley nails was nice, even though my cousin asked for pink acrylic and they gave her the regular kind instead
I stopped by Oakley Nails on Sat & it is gone -closed totally & looked in window & is bare. I really liked this salon, especially Amy! What happened & where did you go??
The male owner was extremely rude and cursed out my friend while he was doing her nails
Good service, a bit pricey though. I didn't expect their services to cost as much as they did for a smaller nail salon. I went on a weekend and it wasn't too busy. My friend and I didn't have to wait long. But if it were any busier it would have been a long wait because they only had two employees working at the time.
The owner (man) of this place is the reason for this review. He was completely inappropriate and demeaning to his new staff member. Every time she walked away from us he would make a horrible comment about her, to me! A customer! After telling him that she just started and to give her a break, he said "well she's pretty, so sometimes they learn slower" This is not the type of person you want to give your money to
Awful experience!!! Told them what I needed done (pink and white fill) they told me what they were going to do (pink only). Two of them were broke and they didn't even fix them!!! Just filed them down. I should have left but needed my nails done before heading out of town. Now I have crooked nails that look completely horrible and I have to go get them redone elsewhere anyway. In addition, pedicure looks just as bad....apparently it was her first one ever. Lucky me :) Will NEVER go back!
We walked right in and Katrina started pedicure tubs for us right away! She was kind and easy to talk to. Katrina was very efficient and was working on several customers at once, but we didn't feel neglected or forgotten. What a great experience! Thanks, Katrina!
New to the area, had tried other places but loved this nail salon! Staff went above and beyond to make us feel welcome. The aesthetics were very nice. Katrina and Amy were wonderful! They were able to fit my son and I in at short notice. We had a delightful mother/ son pedi and mani experience. I would highly recommend Oakley nails to everyone. It's close to Target too!! Very reasonably priced with specials. We received 10% off! Can't wait to go back!
I've tried this nail salon twice now and it's definitely not somewhere I would go again. Both times I was given a sob story about the hours the technicians work. I fell for it the first time, tipping more than I should have,I was uncomfortable with my knowledge about the working conditions. So, I went back. I wanted to check on my technician, I hate thinking that she really was in a situation she couldn't leave or find different work. But this time, I got a different technican and the same story. This time it felt fishy & forced. Less sob, less emotion. I don't know what is going on here, but I plan on staying away. Permanently.
This is one of my favorite places to go for pedis. There is almost always never a wait longer than 15 minutes. The staff is funny and remembers you. The owners are hard working an appreciative of your business. I always see them working next to their staff. Occasionally their adorable daughter is in providing giggles for the customer. I have sensitive skin so they even remember to use non-acetone nail polish. The decor could be improved, but my heels couldn't be any softer or my toenails more trimmed and primped. My favorite part is how thorough they are at cleaning the wash basins and tools. I'm known for being a germ-a-phobe and appreciate the extra cleaning efforts they take. It makes me confident I am in a well kept business. Definitely a place I always return to. They are busier Monday through Wednesday because they offer a mani and pedi special for $40. Hard to beat!
I've been looking for an inexpensive place to get my nails done once in a while, so I really wanted to like this place. We came in for pedicures before leaving for vacation - we had a group of five and we each had appointments for 5 p.m. There were a few other appointments, but we were all seated immediately. My nail tech was very nice - she asked me a few questions about where we were headed on vacation, what I do for a living, etc. While four of us were helped as soon as we sat down, my mom waited for probably fifteen to twenty minutes for a technician. I understand that appointments run long, but they knew we were coming in, and I found that wait to be a little ridiculous. Additionally, when they offered my sister and me a sugar scrub, we both said yes - apparently that service has an extra cost, but no one mentioned that to us. Maybe we were naive for not asking, but I just feel like that's such a seedy way of doing business - you should be open and upfront with your customers about what your services cost, especially when you're offering it while someone is already in the chair, in the middle of getting her nails done. Of the group that went, none of our pedicures lasted very long. It was maybe four or five days later that my sister removed hers because it was chipping a lot - granted, we were at the beach, but we've never had that problem before when we've gone to other salons for pedicures pre-vacation. And I don't know what my nail tech did, but she absolutely ripped up the cuticles on my big toes...the skin was peeling and rather painful. I suppose I'd go back if I had no other options, but it definitely wouldn't be my first choice.
Awful, awful, awful. I went here because the location was so convenient but never again. The woman who did my pedi was so rude and obviously wanted to get me out as soon as possible. I put money in the meter for 45 minutes thinking I would have to re-feed the meter but nope, made it out with time to spare. I also watched as she unevenly applied 3 thick gloopy coats of polish to my toes. Not only do I have lines where the polish was applied unevenly, but OVER 24 hours later I put sneakers on to go to the gym, and the polish smudged - thats how thick she put it on! So now I have to redo my toenails anyway. Waste of $34. Since I have to give at least 1 star, I will say the red-headed woman who did my friend's nails seemed very friendly and her toes looked 100x better than mine. Avoid the young Asian woman with the poor attitude at all costs.
Probably the worst nail experience I've ever had. Got a mani/pedi here, and while the experience was relaxing the next day the polish completely peeled off my nails...like an entire sheet of polish. When I went back to get them fixed, the woman said it was my fault because my nails were too oily. When I told her the woman doing my nails said my nails were actually dry, she said that was what caused it too. Gave me a hard time about fixing it and you could not pay me to return here. Also, they overcharged me for their mani/pedi special because they do not have any prices listed inside - which is sketchy business practice in my opinion.
Staff was friendly but my nail tech whom I believe was the manager/owner and the nail tech next to me did a lot of gossiping about the other employees which was a huge turn off for me and bad for business also he did a horrible job with my shellac mani the polish peeled the very next day I didn't even bother to go back had to go to a totally different nail salon. I will never go back to Oakley nails nor would I recommend it.
Had an appointment with my two daughters for mani and pedi. The owner was very arrogant and rude. Upon leaving a tip for 3 nail techs to split he initially pocketed the majority until I confronted him. They will never get my business again because of him! It's a shame because one tech, Glenda, was awesome.
oakley nails
Did you like the video? Like or tell your friends!